You Will

Not Learn

Math Without

Practicing


Watching The Lesson Videos Are Not Enough!
THE LEARNING MATERIALS YOU NEED TO UPGRADE YOUR MATH SKILLS FOR THE GED!
Don't Waste Time And Start Building The Math Skills You Need For The GED!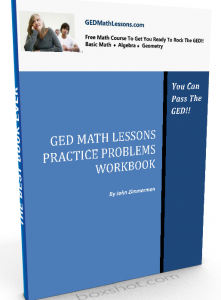 Taking my free GED math course is a big step to help you prepare for the GED. The course will help you learn core middle and high school math skills but you also need to do your part and practice! As such I created a workbook for this course that is designed to give students practice problems and solutions to strengthen their skills. In order to truly master math concepts you must practice a wide variety of problems. This workbook is an extremely valuable supplement that all students using GED Math Lessons should have.
* 357 pages
* Basic Math
* Algebra
* Geometry
A Workbook Designed To Help You Build Your GED Math Power!
Complete Problem Sets Designed To Build Up Your Skills Step-By-Step!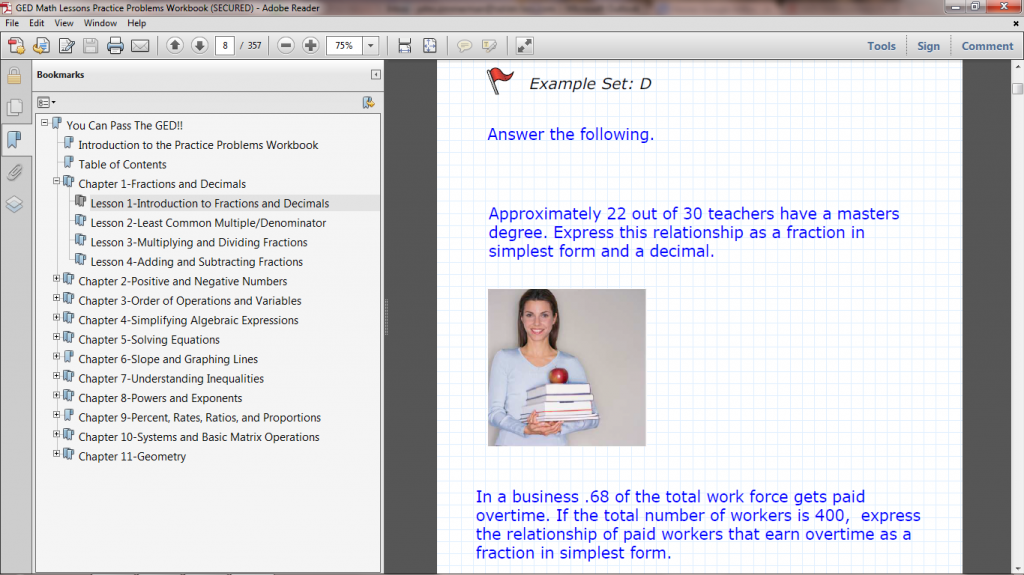 Along With The Problem Workbook, You'll Get An Easy To Understand Self-Teaching, Detailed Math Notes For The GED!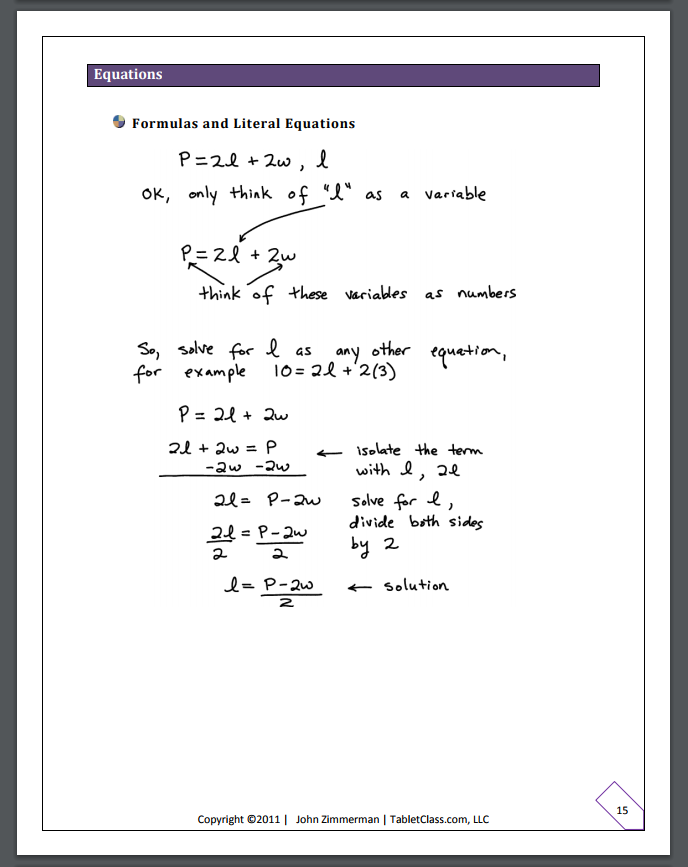 GED Math Concepts Explained In A Step-By-Step Way!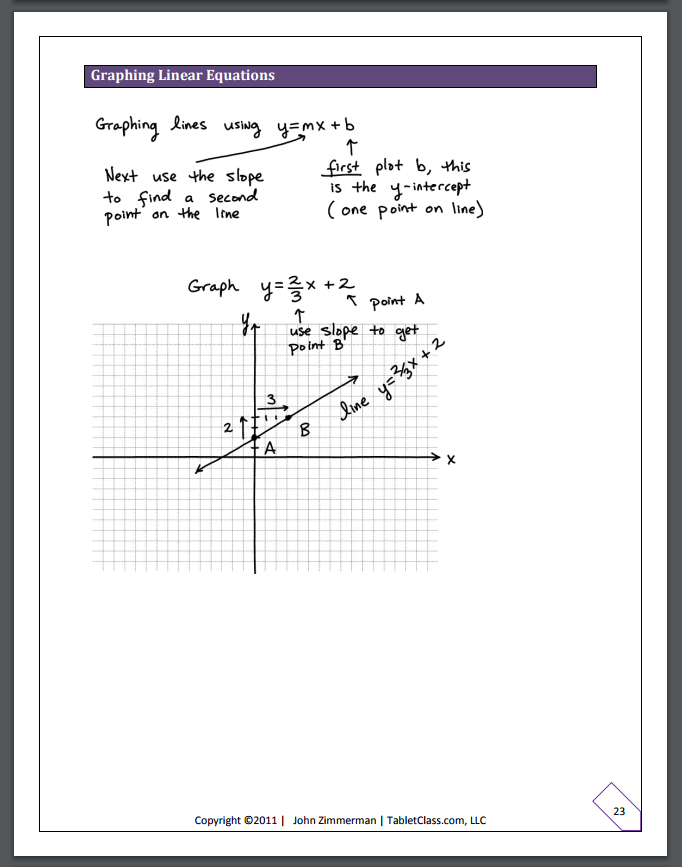 Invest In Your DREAM of Passing The GED! You Can Do This!
This Package Deal Also Comes With My eBook That Explains The Best, Most Effective Way To Study For The GED!
Take A Big Step Forward In Passing The GED!
What People Are Saying About GEDMathLessons….
Hello John,
I am writing to thank you. During the Summer I took and passed all of my GED courses with the exception of the Math test. I found your free math course online and listened and watched all of the videos, trying to educate myself utilizing the tools and tips that you provided. I have to admit, it was very overwhelming and at times I felt as though I was being taught in a foreign language. I scheduled my re-test earlier this week and I passed. Thank you from the bottom of my heart. It took me 22 years to feel confident enough to achieve this goal and I am forever grateful to you for offering this information online. You are heaven sent! Now I can apply for better paying jobs and attend college. Thank you, thank you, thank you for helping others change their lives for the better!!
Sincerely,
Alicia
To John Zimmerman, I want to personally thank you for your free and public content. I'm 19 years old, didn't think I could pass my GED but I passed! Your content was all I used to study, I found you on YouTube, studied that content and used your gedlessons site for other areas that weren't on YouTube. Your purpose in this life is not only to spread your mathematical mastery, but to also help empower those who wish to pick themselves up so they can start living a better life. I am one of those people, now that I have my GED I can move on from this stalemate. Thanks again for offering free and public content while also offering paid solutions, knowledge for all
Maria
Hello
My name is Maria – You helped to passed my GED, thank you so much for all your help. Now I would like you to help to get ready to do well on my placement test in college.
Hi Mr. Zimmerman: Sir, I have a surprise for you, I just passed my MATH, GED, and rest of the subjects too. The last subject I took was the Math and yes, your website and your chapter by chapter, step by step instructions guided me to the glory of math success. I must say that your coaching and online tutorials are the BEST a student could ever find and many thanks to the greatest math wiz and the powerful mind and the kind heart whose act is so selfless that it helps thousands of students like us. You are my math HERO and will always be and I will highly recommend to website to many other students out there struggling to find directions and the only direction is Mr. Zimmerman's golden math tutorials. Yay!!!! Thank you from the bottom of my heart again.


-Your Student and Fan, Waseem
I just wanna say thank you so much, I've took your online lessons and I am proud to say I passed my math GED!!  You motivated me after taking your lessons, studying, and of course praying every day, studying all day and everyday. I am so happy I found your website !!
Shyan
Good day John,
Just want to break the fantastic news. I passed my Math exam with 152. I am so grateful for all your video's and books. Thank you for making it possible. Passed the Social Study with 151. I write the other two on the 15th. I will definitely recommend your books to everyone doing the GED diploma.
Have a great day!
Regards- Lizelle
I wanted to thank you, I don't think I would have passed the test without your assistance!! Thank you so much for having these lessons available online. They are such a great resource!! 😁 Janet
Hi,
Thanks to your videos I passed my math GED about a month ago! Thank you so much! Now I am working on the other the 3.
Love,
Jordan
I passed my test thanks so much – I passed with 176!  Celina
I passed each subject . It wasn't easy but worth it. Thank you for all of your support. Lexi
I passed thanks!!!!!  Angel
I went to take the exam today and I passed. Thank you for your help. I will give you a very good reviews thank you so much for all your help. iIhave passed the GED. Edgar
HI I just want to thank you for all the time and effort you put into these lessons. I passed math test because of you and math books I that I studied! Ron
Good afternoon Mr. Zimmerman
Just a quick note to let you know than I passed my Math's test for my GED last Thursday. I am concentrating on Science and Social studies right now. It has been helpful all the practice you sent me for the maths and I studied all of them.
Thanks again

Steve
I just wanted to let you know that after taking your courses I passed the GED!!!! Thank you for the detail and time you put into your videos for people like me! I owe you big time for the lessons!
Kind Regards
David
I just wanted to take time to tell You how Thankful I am for your videos!!! Without them I don\'t think I would have passed. Thank you again! The way you teach Math is Amazing 😀 Donna
Hi! Mr. Zimmerman I just wanna say first and foremost thank you for putting together such a great tutorial program that helps to assist people like myself, I took my GED math test last night and guess what with your GED program I finally passed my test I received a phone call from the school telling me how I passed amen, thank God for your program thank you so much.
-Kerling
I passed the GED!! Thank! Kristopher
Hi John, I just wanted to say thank you for your course. I took the GED test today and passed, I would not have been to pass it without your class. Thank you very much! Mark
Take A Big Step Forward In Passing The GED!